WELCOME TO CANADA REAL ESTATE INVESTMENT SERVICE INC.

Canada Real Estate Investment Services Inc. was founded in 1993. The company has over 20 years experience on the purchase and sale of investment properties in the beautiful and picturesque province of New Brunswick, Canada to both residents and non residents of Canada. All of the properties recommended for purchase are approved for building with perk tests, hydrogeological studies and even driveway allocation completed. The properties are legally surveyed and approved through the local planning commissions. The properties are always specified as residential, commercial or mixed zoning.

We choose properties that we determine to be poised for growth and increased value for local and international buyers. The properties are excellent choices for a permanent residence, vacation home, retreat, summer cottage and/or as a strong real estate investment addition to a successful investment portfolio. we offer the option to choose any of our properties by paying in full at time of purchase or an alternative option to finance your purchase over 5, 10 or even 15 years.

Canada Real Estate Investment Services Incorporated is not building contractors and are not experts in the field of building construction. Our experience is with land development and by focussing on what we know best, we have become a leader in investment property acquisition and development for both residents and non residents of Canada. Right now waterfront land (whether ocean front land, lake front land or river front land), water access properties, and water view properties are increasing in value sharply in Atlantic Canada, and New Brunswick is poised to lead the way in growth and financial returns for smart property investors.

A property investment in Land is a smart investment that is both secure and offers a guaranteed return. After all, as the world's population grows the amount of available land remains constant; this creates an increasing demand which always results in an increase in the value of your real estate and more specifically the land holdings component of your entire investment portfolio.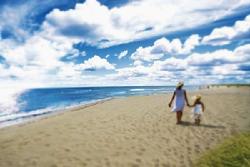 BEACH NEAR TABUSINTAC, NEW BRUNSWICK
Investing in property in Atlantic Canada reminds many of the similar situations that occurred in New England in the 1960's. There are lots of excellent properties available at less than 25% of what the same property in New England would cost. Compared to New England, land in Canada in abundant, beautiful and allows the shrewd investor to capitalize on an area that is just beginning to experience large capital gains in real estate. When the investor considers the current exchange rate of 24% between the currencies of the USA and Canada; the opportunity becomes that much more enticing. An American citizen can buy a $20,000 Canadian property for $15,200 USA dollars.
There is no difference whether you are a citizen or a foreign buyer, the process and protections are the same. Heres a link to an article written by the New York Times on the opportunities available for real estate investment in New Brunswick:
http://www.nytimes.com/2006/08/18/realestate/18canada.html?n=Top%2FFeatures%2FTravel%2FDestinations%2FCanada&_r=0
Looking for assistance with selling your property?

Our "for sale by owner" feature allows you to advertise and market your property using our expertise.
As an added service, we act as an advertising medium for property owners wishing to sell property anywhere in Canada and the USA. This is the opportunity for folks to sell their property using our internet exposure and marketing but maintaining control over the selling process for a specific price and not as a percentage of the sale price. Under our program, your property would be advertised as property for sale by owner and complete control of the selling process is maintained by the seller.

In some situations, we will agree to purchase the property if the seller is looking for a discreet and/or quick sale. Contact us to find out more: customerservice@creisis.com